River Cottage joins Jamie Oliver Food Tube network
06.02.14 Share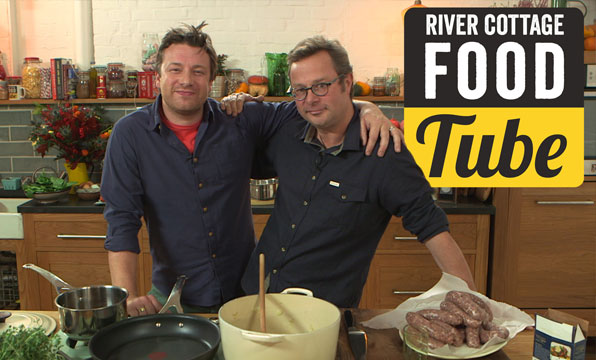 Hugh Fearnley-Whittingstall and Jamie Oliver have today announced that they are to launch a new River Cottage Channel on YouTube. The new channel will be joining Jamie Oliver's Food Tube network and will be live from Saturday the 8th of February.
The new channel, produced by KEO film's digital arm, KEO digital, will feature new, classic and live content from River Cottage – the gang will scour land and sea in search of alternative culinary treats and a sustainable lifestyle.
The channel will be brought to viewers from River Cottage's unique locations – a 65 acre 'production studio'; a working farm and cookery school, the River Cottage Canteens and a London studio.  It will run 52 weeks a year and will be hosted on a dedicated YouTube Channel and RiverCottage.com. There were over 20 million visitors to Rivercottage.com last year which has 1.5 registered users. River Cottage reaches 5 million people a month via its many social media channels.
River Cottage Food Tube joins Jamie Oliver's Food Tube, which has in less than a year established itself as one of the leading network of food channels in Europe.
"A River Cottage Food channel is a must for River Cottage," said Nick Underhill, Head of KEO Digital. "Audience behaviour is changing. The River Cottage audience is passionate, loyal and hungry for more River Cottage content. Hugh's appearances on Jamie Oliver's Food Tube were hugely successful and proved there is an appetite for River Cottage Food Tube. We're very excited to see just what Jamie and Hugh can do by working together."
"Hugh doing River Cottage Food Tube is a brilliant idea," said Jamie Oliver. "Hugh's a mate as well as a fellow campaigner and ever since he came on our live show last year, I have been encouraging him to have a go himself. I can't wait to see what new shows he'll be bringing to Food Tube."

"I am delighted to be launching River Cottage Food Tube," said Hugh Fearnley-Whittingstall. "I've long felt that we should be capturing more of the fantastic cooking and growing that happens every day at River Cottage. It's also great to have a new home for the River Cottage adventures we've had down the years. Jamie's Food Tube has been an inspiration for this project, and the River Cottage team are looking forward to sharing all kinds of new food treats with our fans on our own dedicated channel. It's a great opportunity to get even closer to our audience."
"KEO films have an outstanding track record of delivering multi-platform integrated content," said Debbie Manners, MD of KEO Films. "River Cottage is one of our most successful shows and it's only natural that we should launch River Cottage Food Tube, thanks to some inspiration from Jamie Oliver and his team."
Zoe Collins, director of Food at Fresh one Productions added: "I'm delighted to be welcoming Hugh and River Cottage to the expanding Food Tube family.  Over the last year, we've been having fun getting to know our community on YouTube and we are confident that they're going to love the River Cottage output.  This is a really significant moment for us as we grow and evolve from a single channel to a collection of like-minded, food-passionate individuals all collaborating together under the Food Tube banner."