KEO films tops Televisual Peer Poll
01.10.12 Share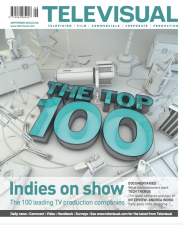 KEO films has emerged as the TV indie most respected by its rivals in Televisual's Production 100 Peer Poll released last month (September 2012).
Televisual Production 100 | Peer Poll | KEO filmsIt took joint place in the survey alongside The Garden, the company responsible for 24 Hours in A&E and Seven Swarves.
It's the first time in four years that Wall to Wall hasn't come out on top, instead finishing third ahead of Kudos, Raw Television and Big Talk.
All participating indies were asked: which rival indie do you most respect, and why?
KEO films was praised for its 'quality and range' of documentaries such as Hugh's Fish Fight and Terry Pratchett: Choosing To Die – last week shortlisted by the Grierson Trust in the 'best documentary on a contemporary theme' category.
It is 'uncompromising in making idea-driven films' said one, while its 'mixture of entertainment and issue-based programming' was acclaimed by another.
One applauded its 'very interesting interactive content' following campaigns such as the BAFTA-nominated Hugh's Fish Fight and Landshare, launched through River Cottage.
"The entire team at KEO films is thrilled to be at the top of the Peer Poll in Televisual's Production 100 companies report," said Debbie Manners, Managing Director at KEO films.
"It's very important to us that our reputation in the industry is not just highly creative, but also ethical and that we're a great company to work for." she added.