Five nominations this week
28.05.12 Share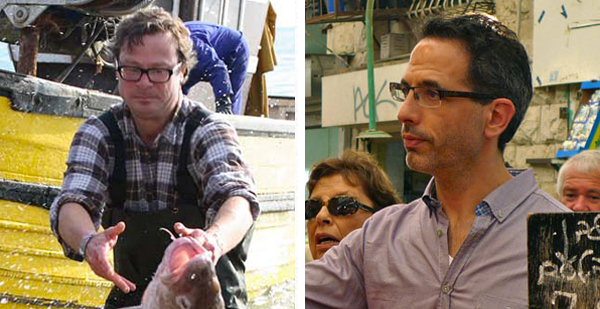 KEO films has been nominated in three categories at this year's Guild Of Food Writers Awards.
The winners will be announced on Wednesday (30 May) at London's Fishmongers Hall.
Hugh's Fish Fight and Yotam Ottolenghi's Jerusalem on a Plate go head to head for the Food Broadcast of the Year award, while Hugh's anti-discard campaign is shortlisted for the Derek Cooper Award for Campaigning and Investigative Food Writing or Broadcasting.
Jerusalem on a Plate completes the set in the Kate Whiteman Award for Work on Food and Travel category, competing against Fresh One's Two Greedy Italians and In at the Deep End: Cooking Fish Venice to Tokyo by Jake Tilson.
Ottolenghi has also been nominated for the Evelyn Rose Award for Cookery Journalist of the Year award.
The Guild of Food Writers was founded 28 years ago.
It is the professional association of food and cookery writers, journalists, broadcasters and editors in the UK and abroad, with a membership numbering over 400.
The awards, which are the most prestigious in the field of food writing and broadcasting, showcase the very best of the industry and are fiercely competed for.
Meanwhile on the same night, Hugh goes up against Jamie Oliver and Caroline Lucas for The Observer Campaigner of the Year.
The Observer Ethical Awards are now in their seventh year of celebrating the projects, businesses, ideas, campaigns and activists making sustainable change a reality.
GUILD OF FOOD WRITERS NOMINATIONS
• Food Broadcast of the Year Award
Hugh's Fish Fight presented by Hugh Fearnley-Whittingstall (Keo Films for Channel 4)
Jerusalem on a Plate presented by Yotam Ottolenghi (Keo Films for BBC Four)
The Food Programme: Food Icons: George Perry-Smith, presented by Simon Parkes (BBC Radio 4)
• Derek Cooper Award for Campaigning and Investigative Food Writing or Broadcasting
Alex Renton for work published in The Times and The Observer and broadcast on The Culture Show (BBC Two)
Hugh's Fish Fight and www.fishfight.net presented by Hugh Fearnley-Whittingstall (Keo Films for Channel 4)
The Food Programme: The Price of Food presented by Dan Saladino (BBC Radio 4)
• Kate Whiteman Award for Work on Food and Travel
In at the Deep End: Cooking Fish Venice to Tokyo by Jake Tilson (Quadrille)
Jerusalem on a Plate presented by Yotam Ottolenghi (Keo Films for BBC Four)
Two Greedy Italians presented by Antonio Carluccio and Gennaro Contaldo (Fresh One for BBC Two)
• Evelyn Rose Award for Cookery Journalist of the Year
Diana Henry for work published in The Sunday Telegraph's Stella magazine
Lucas Hollweg for work published in The Sunday Times' Style magazine
Yotam Ottolenghi for work published in The Guardian's Weekend magazine

Links
Guild of Food Writer Awards 2012
Observer Ethical Awards 2012